Creole and Cajun
cuisines
Food tips you can trust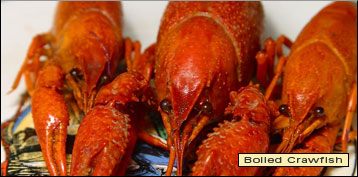 Why Creole Cuisine
and Cajun Cuisine
are special
Creole and Cajun are two of America's most original cuisines. They are also two of its best. Click Creole and Cajun insights for more info.
How many
of these famous
Creole and Cajun specialties
have you tasted?

Crawfish Étouffée

The freshwater crawfish (which look like miniature lobsters) are slowly braised in a small quantity of a seasoned tomato mixture. The Crawfish Étouffée is then served over steaming rice.

Crawfish Boil

The crawfish are steam-boiled then dumped en masse on newspaper-lined tables. Diners snap open the shells with their fingers and enjoy the communal feast.

Gumbo

Made with chicken, seafood and/or sausage. Can also be vegetarian. A gumbo is thickened with fresh okra ("gumbo" is West Africa) or ground dried sassafras leaves (filé powder).

Jambalaya

A seasoned mélange of meat (pork, seafood and/or sausage), vegetables and rice are cooked in one pan. Jambalaya is similar to and was influenced by Spain's paella.

Oysters Rockefeller

Oysters on the half shell are seasoned, set on a bed of rock salt, then broiled. Oysters Rockefeller may or may not contain spinach, depending on the chef.

Red Beans and Rice

Kidney beans and rice are piqued with seasonings and with ham or sausage morsels. Served on a mound of rice.
Learn More

for next Creole and Cajun page
Learn my American tips
and insights on these pages
Click blue links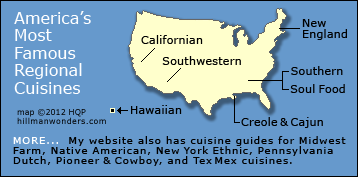 America's 7 most famous
regional cuisines
California
Creole & Cajun
Hawaiian
New England
Soul Food
Southern
Southwestern
Other renowned
American cuisines
Cowboy
New York Ethnic
Midwest farm
Native American
Penn Dutch / Amish
Pioneer
Tex Mex
Related pages
Top 10 Famous American foods
American cuisine - The bad and good
American city specialties
USA production science
Top 10 travel wonders of America
Photo by John Sullivan - PD

Rankings
Peasant recipes
World wonders
Also read
Site map
About me and my credentials
About my website
Reader testimonials
Email me your opinion