American food
production science
insights you can trust

The science of production
behind American food

Pioneer
America has been a key pioneer in the scientific production of foodstuffs that has increased availability and lowered costs. Some methods have been adopted by other nations.

Mass-scale poultry rearing
This is a good example of modern food production science. Most of the chicken in America are raised in indoor farm factories that spew forth less expensive poultry (though a mixed blessing because the meat is less flavorful).

Cost-efficiency methods
Production science has also been applied to grains, vegetables, and fruits. Advances in canning, freezing, transportation, and processing make it possible for Americans to eat almost any food grown anywhere in any season. This accessibility has added year-round variety (but it has also suppressed flavor, texture, and some of the rich traditions of the regional cuisines).
Learn my American tips
and insights on these pages
Click blue links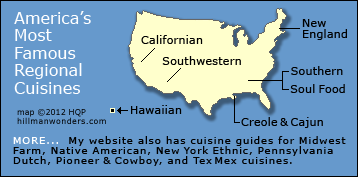 America's 7 most famous
regional cuisines
California
Creole & Cajun
Hawaiian
New England
Soul Food
Southern
Southwestern
Other renowned
American cuisines
Cowboy
New York Ethnic
Midwest farm
Native American
Penn Dutch / Amish
Pioneer
Tex Mex
Related pages
Top 10 Famous American foods
American cuisine - The bad and good
American city specialties
USA production science
Top 10 travel wonders of America

Rankings
Peasant recipes
World wonders
Also read
Site map
About me and my credentials
About my website
Reader testimonials
Email me your opinion