Southwestern cuisine
Food tips you can trust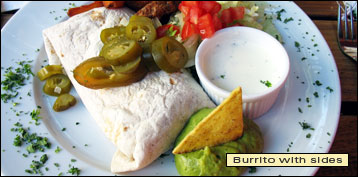 Why Southwestern
cuisine is special
Southwestern cuisine is a tasty fusion of Mexican, Spanish, and Native American culinary cultures. The area stretches from Arizona to Southwest Texas, with Santa Fe, New Mexico its creative heart.
Famous
Southwestern Cuisine
specialties
Burrito to Flauta
Click NEXT PAGE for Guacamole to Tostados

Burrito
Rolled flour tortillas crammed with a meat or bean mixture.

Chauquehue Tortilla
Made with and tinted by the blue chauquehue corn.

Chili Con Carne
Chili-spiced ground or cubed beef served in a bowl. Aficionados ridicule versions containing beans.

Chili Relleno
Whole chili pepper stuffed with cheese, then battered and deep fried.

Chimichanga
Deep-fried folded-and-sealed flour tortilla packed with meat.

Enchilada
Rolled corn tortilla with a meat filling. A batch is baked together, coated with a cheese-tomato sauce.

Fajita
Sizzling sliced steak served with tortillas and garnishes

Flauta
Crisp-fried tightly rolled corn tortilla stuffed with shredded meat or cheese. It's named for its flute shape.
Learn More

for next Southwestern page
Learn my American tips
and insights on these pages
Click blue links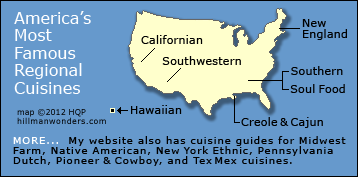 America's 7 most famous
regional cuisines
California
Creole & Cajun
Hawaiian
New England
Soul Food
Southern
Southwestern
Other renowned
American cuisines
Cowboy
New York Ethnic
Midwest farm
Native American
Penn Dutch / Amish
Pioneer
Tex Mex
Related pages
Top 10 Famous American foods
American cuisine - The bad and good
American city specialties
USA production science
Top 10 travel wonders of America
Photo by Stephan Mosel - CC BY 2.0

Rankings
Peasant recipes
World wonders
Also read
Site map
About me and my credentials
About my website
Reader testimonials
Email me your opinion