American Cowboy
and Pioneer food
Food tips you can trust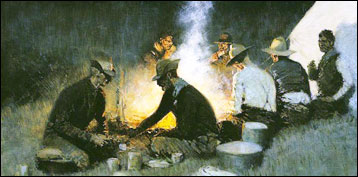 Cowbo and
Pioneer foods
Although they are mainly memories today, cowboy and pioneer cuisines once played a notable role in western and central states.

Cowboy cuisine
It was more varied when eaten at the ranch. The food was hearty and served in generous portions. Grilled steaks, slow-cooked roasts, and fresh biscuits were favorites. So were meaty stews.
However, cowboys on a cattle drive had to eat what they could carry, catch, or harvest on the way.

Staples
There was always a lot of meat for stewing and roasting, supplemented with beans, baking-powder bread items, and strong black coffee, but not much else.

Open-fire
Cooking had to be done over an open fire, with simple metal skillets, cauldrons, and baking sheets.

Dutch oven
The chuck-wagon cook's biggest asset was the Dutch oven. It could be suspended over a campfire or nestled in the hot coals, with more coals piled on its heavy concave lid for baking.

Pioneer cuisine
It was monotonous and starchy - bacon, ham and salt pork, biscuits, cornbread, coffee, and pies made with dried fruits. The fare was occasionally relieved by hunting game, catching fish and picking fresh fruit - which were not easy pursuits because the covered wagons were usually on the go.
Learn my American tips
and insights on these pages
Click blue links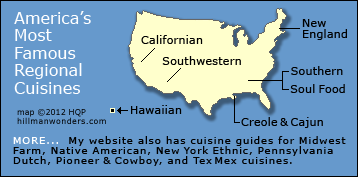 America's 7 most famous
regional cuisines
California
Creole & Cajun
Hawaiian
New England
Soul Food
Southern
Southwestern
Other renowned
American cuisines
Cowboy
New York Ethnic
Midwest farm
Native American
Penn Dutch / Amish
Pioneer
Tex Mex
Related pages
Top 10 Famous American foods
American cuisine - The bad and good
American city specialties
USA production science
Top 10 travel wonders of America
Painting by Frederic Remington - PD

Rankings
Peasant recipes
World wonders
Also read
Site map
About me and my credentials
About my website
Reader testimonials
Email me your opinion