Southwestern cuisine
page 2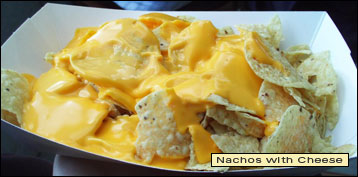 Famous
Southwestern Cuisine
specialties
Guacamole to Tostados
Click PAGE ONE for Burrito to Flauta

Guacamole
Avocado gently mashed with chopped tomatoes, chili, onions and cilantro. Flavored with lime.

Quesadilla
Folded-in-half flour tortilla filled with meat or cheese. Toasted, baked or fried.

Nachos
A large mound of tostados smothered with melted cheese, sour cream, chopped tomatoes and sliced chilies.

Navajo Fry Bread
Deep-fried dough. Popular on feast days. A Sopaipilla is similar, but smaller and fluffier.

Posole
Thick pork and hominy (corn kernels treated with lye) stew.

Taco
Deep-fried, folded-in-half, open-sided corn tortilla stuffed with a meat mixture.

Tamale
Savory meat mixture encased in cornmeal dough, wrapped with cornhusks, then steamed.

Tostados
What most Americans call tortilla chips.
Learn More

for next Southwestern page
Learn my American tips
and insights on these pages
Click blue links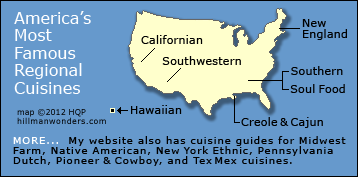 America's 7 most famous
regional cuisines
California
Creole & Cajun
Hawaiian
New England
Soul Food
Southern
Southwestern
Other renowned
American cuisines
Cowboy
New York Ethnic
Midwest farm
Native American
Penn Dutch / Amish
Pioneer
Tex Mex
Related pages
Top 10 Famous American foods
American cuisine - The bad and good
American city specialties
USA production science
Top 10 travel wonders of America
Photo by Jennifer Feuchter - CC BY 2.0

Rankings
Peasant recipes
World wonders
Also read
Site map
About me and my credentials
About my website
Reader testimonials
Email me your opinion