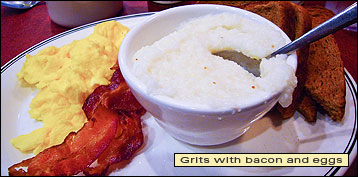 Other renowned
Southern cuisine
specialties

Grits
Ground dried hominy (corn treated with lye) that's slowly simmered into a mush. Served every meal, especially for breakfast.

Chicken-Fried Steak
So named because the beef is battered and fried like Southern Fried Chicken.

Cornbread
It is used both as a bread and a stuffing.

Fried Green Tomatoes
Unripe tomatoes are sliced and battered, then pan-fried.

Fried Catfish
The fillet is coated with seasoned cornmeal.

Game Meat
Hunting has always been big in the South. Kitchen-bound quarry include deer, opossums, squirrels, rabbits, raccoons, and a host of game birds.
Learn More

for next Southern Cuisine page
Learn my American tips
and insights on these pages
Click blue links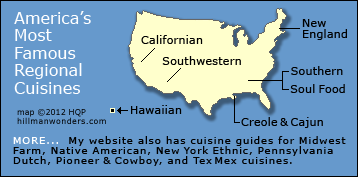 America's 7 most famous
regional cuisines
California
Creole & Cajun
Hawaiian
New England
Soul Food
Southern
Southwestern
Other renowned
American cuisines
Cowboy
New York Ethnic
Midwest farm
Native American
Penn Dutch / Amish
Pioneer
Tex Mex
Related pages
Top 10 Famous American foods
American cuisine - The bad and good
American city specialties
USA production science
Top 10 travel wonders of America
Photo by Sashafatcat - CC BY X.X

Rankings
Peasant recipes
World wonders
Also read
Site map
About me and my credentials
About my website
Reader testimonials
Email me your opinion