Sequoia
National Park
Travel tips you can trust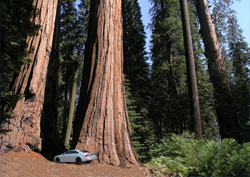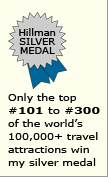 Why the
Sequoia National Park
is special
This California wonder has the world's grandest sequoia groves.
One tree - the General Sherman - measures 83 meters (275 feet) high and 31 meters (103 feet) in circumference, making it the earth's largest living tree in terms of volume.
Sequoia National Park
tips and insights

Top attraction: Giant Forest
If you visit only one grove in Sequoia National Park, make it Giant Forest. The General Sherman tree lives here, as do many other massive specimens. The Giant Forest has a one-hour paved trail for exploring the towering trees. Some are 2,000 years old.

Other interesting
attractions include

Tunnel Log
Drive through a tunnel carved through a giant tree that fell across a road.

Crescent Meadow
The famous 19th century conservationist John Muir called Crescent Meadow the "Gem of the Sierra". It's still unspoiled.

Moro Rock
Climb 400 steep steps up this domed rock for a breathtaking view of the surrounding landscape.

Tharp's Log
A 19th century settler built his cabin inside a fire-hollowed fallen sequoia.

Crystal Cave
Tour a cavern composed of marble, complete with stalagmites and stalactites.
Location in America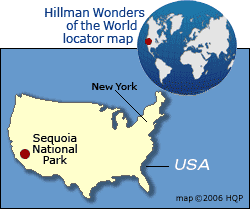 Learn More

for Sequoia National Park - Page 2
Learn my other
America tips & insights
America Wonders - Complete list
America wonder map
Top 10 Famous American foods


World's Top 100 Wonders
World's Top 1000 Wonders
Site map
My credentials
About my website and criteria
Reader testimonials