Smithsonian Institution
Travel tips you can trust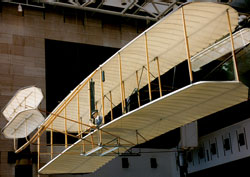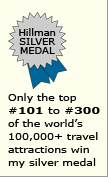 Why the
Smithsonian Institution
is special
The Smithsonian in Washington, D.C. is the largest and one of the finest museum complexes in the world. It has 18 major museums, a national zoo, and a number of research centers. Collectively they annually attract over 20 million visitors.
Top 2
Smithsonian venues
These two venues (and those on the next page) are the Smithsonian destinations that have proven to be of most interest to travelers. All are located in Washington, D.C. except for the Cooper-Hewitt in New York City.

National Air
and Space Museum
This is the world's most popular museum, with 9 million visitors per year. The many must-see objects include the Wright Brothers' plane (see photo) that made the first manned-flight in 1903, Lindbergh's Spirit of St. Louis plane that made the first solo trans-Atlantic journey in 1927, and the Apollo 11 command module that transported Neil Armstrong from earth to the moon in 1969. There is even a lunar rock you can touch.

National Museum
of Natural History
It is the Smithsonian's second most popular museum and ranks among the world's finest natural history museums. Don't miss exhibitions include the Dinosaur Hall, Mammal Hall, Insect Zoo, African Voices, and Hall of Geology. The last displays the celebrated "cursed" Hope Diamond.
Location in America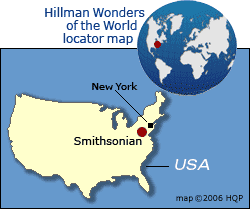 Learn about the
other major Smithsonian venues

for Smithsonian - Page 2
Learn my other
America tips & insights
America Wonders - Complete list
America wonder map
Top 10 Famous American foods


World's Top 100 Wonders
World's Top 1000 Wonders
Site map
My credentials
About my website and criteria
Reader testimonials