Times Square at night
insights you can trust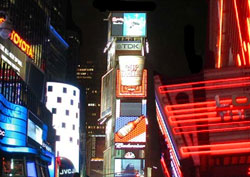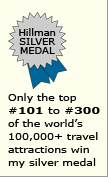 Why
Times Square at night
is special
Although Times Square in New York City is ordinary by day, it turns into a dazzling universe of flashing neon and huge billboards at night. Yes, Times Square is glitzy, not esthetic, but it's a unique spectacular sight that everyone should experience at least once.
Times Square at night
tips and insights

Signage
Interesting, monstrous, attention-grabbing signs on buildings are prohibited elsewhere in the city, but the edifices in Times Square are mandated to have them in order to maintain the district's character.

Layout
In its limited sense, Times Square occupies only the triangle created by the intersections of Broadway, Seventh Avenue and 43rd Street. Most of the awesome signage is in this zone. Most of the Broadway theatres and restaurants lie just outside it.

Transformation
Times Square once drifted into a seamy neighborhood. It has now been retransformed into a safe, family-pleasing destination. However, be prepared for exceptionally crowded sidewalks, crossings and (if you're driving) streets during peak hours.
The new pedestrian-only zone has improved the experience for visitors.

Location in America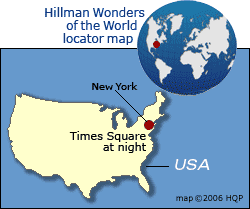 Learn More

for Times Square at Night - Page 2
Learn my other
America tips & insights
America Wonders - Complete list
America wonder map
Top 10 Famous American foods


World's Top 100 Wonders
World's Top 1000 Wonders
Site map
My credentials
About my website and criteria
Reader testimonials