Why the Avalon
Artistry II is special
river cruise tips you can trust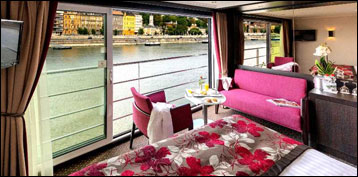 Top 10 reasons
why my fellow
passengers like
the Avalon Artistry II
I informally surveyed many of them during a recent European river cruise to learn why they enjoyed the ship. Their top ten reasons:

Friendly, helpful, caring service
Staffers go out of their way to please you.

Free, quality shore excursions
They are well designed and led by interesting, knowledgeable guides.

for my overview of
the shore excursion program.

Attractive, comfortable dining
room, cabins, and lounges

for my photos and comments on the dining room

for photos and
details on suites and staterooms

for my photos and
descriptions of the lounges

Panoramic windows in the dining
room and various lounges
Nearly all the outer walls of these venues have tall, wide windows for viewing the passing scenery.

French balconies
81% of the cabins sport French balconies. When you slide open the wide floor-to-ceiling glass doors, your cabin becomes a spacious, open-air balcony. (See photo above)

Other passengers
Avalon draws a personable, sophisticated river-cruising clientele. You rarely encounter inconsiderate, loud, or otherwise disturbing fellow cruisers.

Meals are complimentary
These include breakfast, lunch and dinner.

for meal descriptions.

Among the best culinary offerings
in the river-cruise industry.

for a sample menu list

Complimentary wine for dinner
Choice of red or white. Beer and soft drinks are also free.

Good staff-to-
passenger communications
The cruise director and the printed sheets keep you informed and up to date.
Bear in mind
The Artistry II may not be right for you if ...
You're taking your children and teenagers (there are no specialized facilities or programs for them).
Is the Artistry faultless?
No cruise ship (river or ocean going) can be perfect, including the outstanding Artistry II. Failings are bound to occur because of the physical complexity of a cruise vessel and the number of crew members and passengers involved. For instance, my dining companion was inadvertently served the wrong wine. However, deficiencies were applaudably few and far between on the Avalon Artistry II.
Learn my other
Avalon Artistry II tips & insights
Know what my fellow passengers
think about the Artistry II
Top 10 reasons why they like it
More Artistry II insights
Lounges
Dining
Onboard activities
Shore excursions
Suites and staterooms
Photos of staff
Menu
Deck plans
Communications
Ship fact sheet
More tips & insights
Click Avalon Waterways
to visit its website.
Suite photo credit: Avalon Waterways

World's Top 100 Wonders
World's Top 1000 Wonders
Site map
My credentials
About my website and criteria
Reader testimonials