Best time to visit
Las Vegas
advice you can trust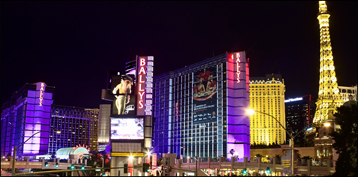 Las Vegas -
The best and worst
times to visit
Insights you need to know

Best times
October and November
Pleasant temperatures. Hotel prices and availability are favorable. And crowds are manageable.
April and May
Temperatures rise to comfortable levels. Hotel rates are non peak. And the visitor count is moderate (for Las Vegas).

Least desirable times
July and August
Temperatures sometimes hit 38°C 100°F) and much higher from mid June onward. Despite the heat, Las Vegas will be teeming with tourists (partially because of the school break).
On the positive side, the casinos are nicely air-conditioned. However, it will likely be too hot for you to lounge at the pool. Ditto for having fun strolling down the strip hopping from one casino to another (which usually entails a long walk).
December to February
This is Las Vegas' busiest tourism period (especially from late December to mid February). Hotel prices are high and room availability is low. Daytime temperatures are typically chilly. And on some nights the thermometer can drop to the freezing point.

More insights
What happens during
peak Las Vegas periods
Hotel and airline prices soar. Reservations for hot shows and restaurants become hard to obtain. The strip at night becomes a terrible traffic jam. And taxi and buffet lines are long, sometimes for as long as an hour.
Avoid large convention dates
Virtually every hotel room will be booked when the many large conventions are being held. One has 150,000 attendees, which is larger than the total number of hotel rooms in Las Vegas.
Before you firmly book your vacation dates, I suggest you click here to visit a website that lists the upcoming Las Vegas conventions along with their attendance figures.
Holidays to avoid
If you don't like crowds, stay clear of the Christmas, New Year, Memorial Day, Independence Day, and Labor Day periods. Ditto for the Super Bowl Sunday weekend (gamblers love Las Vegas).

Know when to go
and not go to other
travel destinations
Click More best and least desirable times
Learn my other
America tips & insights
America Wonders - Complete list
America wonder map
Top 10 Famous American foods

Las Vegas photo by Project 1080 - CC BY 2.0

World's Top 100 Wonders
World's Top 1000 Wonders
Site map
My credentials
About my website and criteria
Reader testimonials