Best time to visit
Munich
advice you can trust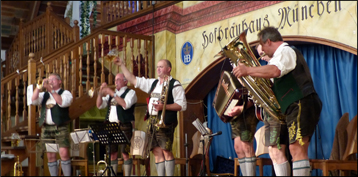 Munich -
The best and worst
times to visit
Insights you need to know

Best times
May
Winter's cold temperatures are gone and summer's tourist masses have yet to arrive. As a bonus, daylight sightseeing hours are longer than in September, the second best time to visit Munich.
September
Summer's tourist crowds have thinned and fall's chilly weather has not set in.
The climate benefits of September usually extend into early October. This is good news for those attending the world famous Octoberfest - it runs from the last week of September to the first week of October.

Least desirable times
November to February
Temperatures are very cold and - photographers take note - the skies are often cloudy or overcast.
However, the cheerful Christmas holiday period and the partying Fasching fest (in February) make a winter visit special. Book your hotel accommodations early for these popular events.
July and August
Although temperatures are the year's best, it rains a lot and tour-bus hordes can spoil your experience.

More insights
Weather forecasts
Munich's weather is somewhat unpredictable, so don't heavily bank on tomorrow's forecast.

Know when to go
and not go to other
travel destinations
Click More best and least desirable times
Learn my other
Germany tips & insights
Germany wonders - Top 10 rankings
Basic German phrases
Germany wonder map
German cuisine
Munich photo by Romanboed - CC BY 2.0

World's Top 100 Wonders
World's Top 1000 Wonders
Site map
My credentials
About my website and criteria
Reader testimonials