Best time to visit
New York
advice you can trust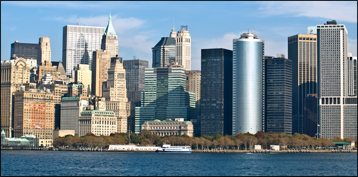 New York -
The best and worst
times to visit
Insights you need to know

Best times
September and October
The crisp fall air is invigorating and fuels the famed brisk pace of New Yorkers. This is a perfect time for you to feed off their energy. However, be aware that you might experience uncomfortably high temperatures in early September.
December
The city picks up a magical air as eager local shoppers fill the sidewalks. And Christmas window displays excite the eye, as do the Rockefeller Center's skating rink and towering Christmas tree. It will be cold, so you need to bundle up.

Least desiraable times
January and February
These are the two months you are most likely to encounter bitterly cold temperatures, slippery icy sidewalks, and serious snow storms.

Other times
March
Better than Janurary and February but snow and frigid temperatures are possible, especially in the first part of the month.
April
It's the city's rainiest month. Pack an umbrella.
May
This is the second rainiest month. But when the sun shines, May is pleasant.
June to August
Famous attractions burst with tourists, creating long wait lines. Temperatures occasionally reach 100°F, particularly in July and August.
November
Daylight Saving Time shortens afternoon sightseeing time. And temperatures continue to fall.

Know when to go
and not go to other
travel destinations
Click More best and least desirable times
Learn my other
America tips & insights
America Wonders - Complete list
America wonder map
Top 10 Famous American foods

New York photo by Wwarby - CC BY 2.0

World's Top 100 Wonders
World's Top 1000 Wonders
Site map
My credentials
About my website and criteria
Reader testimonials