When to go on a
Canada New England
cruise
plus port location map
Best times
to go on a
Canada New England cruise
The 4-month
prime cruise season


July & August
Pros
Long daylight sightseeing hours.
Cons
No foliage displays. Days can be
uncomfortably hot & humid. Tourist crowds.

September
Pros
Day temperatures gradually get more comfortable. Tourist crowds decline.
Cons
Too early for foliage. September is a hurricane-prone month.

October
Pros
It's the amazing foliage month
(click foliage to read my helpful page
on the topic).
Cons
Cold temperatures are made worse
by windy conditions. Daylight hours are short.
Off season
A few Canada New England cruises sail as early as May and June.
Canada New England
cruise port map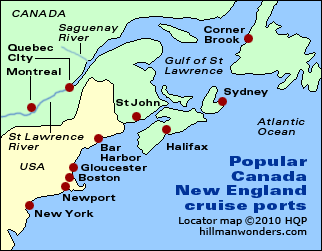 Other
Canada New England
cruise ports
Two dozens exist. Among the best are Corner Brook (Newfoundland), Gloucester (Massachusetts), Saint John (New Brunswick), and Sydney (Nova Scotia).
Embarkation ports (besides Boston and New York) include Baltimore, Cape Liberty, Norfolk, and Philadelphia.

Candid cruise pages
Top 5 Canadian New England cruise ports
When to go + Port location map
Five essential fall foliage tips
More tips & insights
Cruise Lines International Association

World's Top 100 Wonders
World's Top 1000 Wonders
Site map
My credentials
About my website and criteria
Reader testimonials