Dazu Rock Carvings
China travel tips
you can trust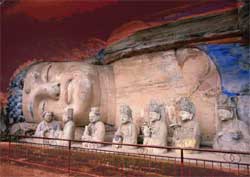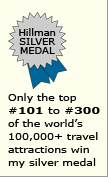 Why the
Dazu Rock Carvings
are special
The Dazu figures project a greater sense of humanity than the statuary found in China's three other great Buddhist cave and cliff art sites (Longmen, Mogao and Yungang).
Dazu Rock Carvings
tips and insights

How to pronounce
Dazu: dah-zoo

Number
The Dazu area has more than 50,000 carvings.

Many sites
Unlike the sculptures in the other major Buddha cave and cliff art sites, those in the Dazu region are spread over a large geographical area. There are 75 distinct major sites.

Top 2 sites
Fortunately for the tourist in a hurry, the two best Dazu sites are situated near Dazu town, making it easy to see both in the same morning or afternoon. Those sites are:

Baodingshan (top choice)

Beishan (runner-up)

Creation
The stone carvings were begun in the 9th century (late Tang Dynasty) and continued into the 13th Century (Song Dynasty).

Also known as
The Dazu Rock Carvings are also called the Dazu Stone Sculptures.
Learn More

for next Dazu Rock Carvings page
Learn my other
China tips and insights
Wonders of China - Top 10 rankings
China Wonder location map
Chinese cuisine guide
Basic Chinese phrases with pronunciations

World's Top 100 Wonders
World's Top 1000 Wonders
Site map
My credentials
About my website and criteria
Reader testimonials