Jokhang Temple
China travel tips
you can trust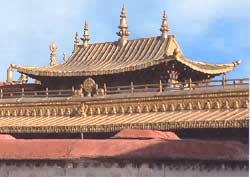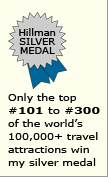 Why
Jokhang Temple
is special
The Jokhang Temple is widely considered Tibet's most sacred site.
Top 2
Jokhang Temple
attractions

Jowa Buddha statue
The golden Jowa Buddha statue is the most venerated religious object in the Jokhang Temple. It is a rare statue of Buddha when he was a 12 year old boy. This golden statuary was brought to Tibet by the 7th century Chinese Princess Wencheng as part of her dowry.

Dharma wheel
The second best known object in Jokhang Temple is the eight spoked Dharma wheel that conspicuously sits atop the complex's main entrance. Each spoke represents one of the eight fold paths to enlightenment, a core tenet of Buddhism.
Other must-sees

Entrance area
Just outside this Jokhang Temple's gate are supplicants prostrating themselves as they slowly make their way to the entryway.

Chapels
Jokhang Temple has many chapels, mystically lit with yak-butter lamps, and sometimes graced with mantra chanting lamas.

More
Other exciting facets of the Jokhang Temple include interesting roofs (see photo), courtyards, and ancient wall murals.
Learn More

for next Jokhang Temple page
Learn my other
China tips and insights
Wonders of China - Top 10 rankings
China Wonder location map
Chinese cuisine guide
Basic Chinese phrases with pronunciations

World's Top 100 Wonders
World's Top 1000 Wonders
Site map
My credentials
About my website and criteria
Reader testimonials