Sanjiang Bridges
China travel tips
you can trust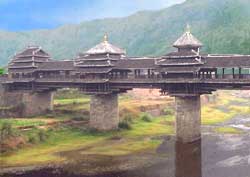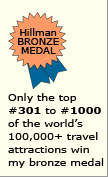 Why the
Sanjiang Bridges
are special
The pagoda topped village bridges in the Sanjiang region have striking architectural designs. The bridge of Chengyang village (see photo) is the most visually stimulating of them all.
Sanjiang Bridges
tips and insights

How to pronounce
Sanjiang:  san-zhe'ahng

Builders
The bridges of Sanjiang were built by the Dong ethnic people, the largest population group then and now in the Sanjiang region. The Dongs used no nails or other metal fastening devices in constructing their traditional bridges (which demonstrates their architectural and carpentry skills).

Why they were built
Dong riverside villagers need to construct the bridges because they typically reside and work on both banks. You cross the bridge inside its covered corridor. The underlying purpose of the roof is to shelter you from the wind and rain. As a bonus, the roof makes a splendid artistic statement. Because the covered bridges give protection from the wind and rain elements, the Dong people call the structures Wind and Rain bridges.
Learn More

for next Sanjiang Bridges page
Learn my other
China tips and insights
Wonders of China - Top 10 rankings
China Wonder location map
Chinese cuisine guide
Basic Chinese phrases with pronunciations

World's Top 100 Wonders
World's Top 1000 Wonders
Site map
My credentials
About my website and criteria
Reader testimonials