Shouxi Lake
China travel tips
you can trust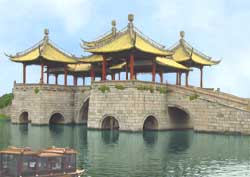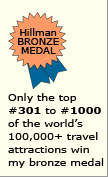 Why
Shouxi Lake
in Yangzhou
is special
Shouxi Lake is the highlight of Yangzhou, a city renowned around the world for its gardens. This long, narrow lake is beautifully landscaped with gardens, weeping willows and pavilions - and crossed by stunning bridges.
Shouxi Lake
tips and insights

How to pronounce
Shouxi:  shoo-she

South vs. North China gardens
Shouxi Lake embraces the Yangzhou garden style. It's a successful blend of the northern and southern Chinese garden styles, which markedly differ:

In the north
Gardens tend to be grand, expansive affairs - almost as if to show off. The imperial gardens of the Beijing's Summer Palace exemplify this style.

In the south
Although the gardens in the south also try to impress, they do it more subtly. They are smaller and more intimate, with more elegant architectural details.

Five Pavilion Bridge
This is the lake's most striking feature (see photo). Five Pavilion Bridge was built in the 18th century to honor a visiting emperor.

Xiaojin Hill
Another major Shouxi Lake attraction is the islet of Xiaojin (little golden) Hill in the middle of the lake. It's crowned with pavilions and the gardens are treasures.
Learn More

for next Shouxi Lake page
Learn my other
China tips and insights
Wonders of China - Top 10 rankings
China Wonder location map
Chinese cuisine guide
Basic Chinese phrases with pronunciations

World's Top 100 Wonders
World's Top 1000 Wonders
Site map
My credentials
About my website and criteria
Reader testimonials