Stone Forest
China travel tips
you can trust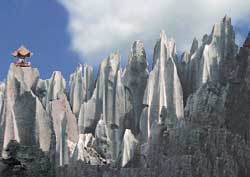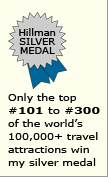 Stone Forest
tips and insights

Rock formations
Some are nearly as tall as ten story buildings. The rock formations resemble people, animals, plants, and whatever else your imagination may identify.

Other popular
Stone Forest attractions
They include reflecting lakes, caves and pagoda lookouts.

Size
Stone Forest is large. It covers over 300 square kilometers (120 square miles). Most of the popular tourist attractions are located in the north, near the entrance.

Creation
How the Stone Forest originated: Some 200 million years ago an ancient seabed covered with limestone sediment rose to become land. Then, wind and rain slowly eroded the limestone, leaving behind the bizarre rock pillars we see today.

When to come
To enjoy the Stone Forest at its serene best, go either early in the day or late in the afternoon. You'll avoid the crowded paths and loud talking guides. As a bonus, the lower angles of the sun make the rock pillars more striking to the eye and camera.

Torch Festival
The local Sani ethnic group has an interesting annual Torch Festival on the 24th day of the sixth lunar month (usually June). Young men run among the lantern lit rock formations to find and propose to their love interests.

Nearest major city
The Stone Forest is a two hour drive southeast from Kunming, the capital of Yunnan province.
Learn my other
China tips and insights
Wonders of China - Top 10 rankings
China Wonder location map
Chinese cuisine guide
Basic Chinese phrases with pronunciations

World's Top 100 Wonders
World's Top 1000 Wonders
Site map
My credentials
About my website and criteria
Reader testimonials