Tiananmen Square
China travel tips
you can trust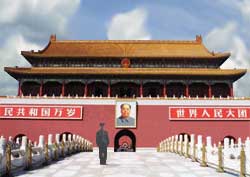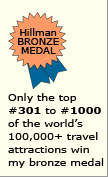 Tiananmen Square
is special
It is the world's largest urban square used for public gatherings. A half million people can comfortably stand in it.
Tiananmen Square
tips and insights

How to pronounce
Tiananmen:  tee'ah-nahn-mehn

Function
The square has been used for many prominent ceremonies, parades and protests. It is also a popular spot for kite flying, family strolling and tourist sightseeing.

Historic rostrum
In 1949. from the high rostrum of the Gate of Heavenly Peace entrance tower, Mao Zedong proclaimed the China People's Republic to the multitude standing in Tiananmen Square. Many other Chinese leaders have viewed May Day and International Labor Day parades from that perch.

Also significant
These major buildings rim Tiananmen Square:

Mao Zedong Memorial Hall
The embalmed body of Mao is on public display. Each year millions of Chinese citizens line up to view it.

Great Hall of the People
It houses a 10,000 seat auditorium and a 5,000 seat banquet hall.

China National Museum
Has relics dating back 2.5 million years. Also has exhibits on the Chinese Revolution.

Monument to People's Heroes
Situated near the middle of the square.
Learn More

for next Tiananmen Square page
Learn my other
China tips and insights
Wonders of China - Top 10 rankings
China Wonder location map
Chinese cuisine guide
Basic Chinese phrases with pronunciations

World's Top 100 Wonders
World's Top 1000 Wonders
Site map
My credentials
About my website and criteria
Reader testimonials