Xian City Wall
China travel tips
you can trust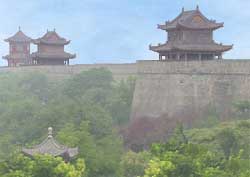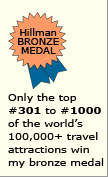 Why
Xi'an City Wall
is special
Many cities in China once had massive defensive walls to thwart invading armies. Among the few city walls that remain, the one of Xi'an is undoubtedly the most impressive and photogenic.
Xi'an City Wall
tips and insights

How to pronounce
Xi'an:  she-ah'n

Size
The sloped, rectangular wall is 14 kilometers (8 miles long) and encloses the old center of Xi'an. However, only the southern half of the Xi'an city wall has been significantly restored and rebuilt. But that portion runs over 5 kilometers (3 miles) and is striking. The height of the Xi'an City Wall of today averages 12 meters (40 feet).

Design
Each side of the rectangular wall has a gate. Each corner of the wall has an imposing watchtower.
Between those watchtowers are smaller lookouts in the form of projecting ramparts. They are spaced at 120 meter (400 foot) intervals. This assures that arrows can reach any point along the wall where the enemy may be attacking.
The wall between the ramparts is crenelated (notched) for shooting and shielding. The Xi'an crenatures once numbered 5,894.
Learn More

for next Xi'an City Wall page
Learn my other
China tips and insights
Wonders of China - Top 10 rankings
China Wonder location map
Chinese cuisine guide
Basic Chinese phrases with pronunciations

World's Top 100 Wonders
World's Top 1000 Wonders
Site map
My credentials
About my website and criteria
Reader testimonials