TransAtlantic cruise
Cruise tips you can trust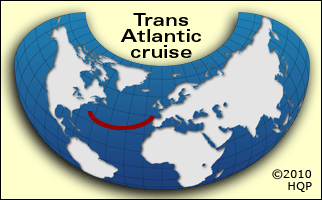 Top 3 essentials about
TransAtlantic cruises to
know before you book

The difference between
repositioning and regularly
scheduled TransAtlantic cruises
Both are one-way. You cruise cruise going and fly back - or do the reverse. Here's how the two cruise types compare:

Repositioning
TransAtlantic cruise
This is the most popular type. Essentially, a ship crosses the Atlantic twice a year to be where the best weather is - and, therefore, where cruisers vacation.
Spring - March, April or May.
Ships relocate from the Americas (especially the Caribbean) to Europe (usually the Mediterranean).
Fall - September, October or November.
Ships reverse their nautical migration by returning to their winter habitat.
Most repositioning voyages last about two weeks because their itineraries include several stops. These can be during the ocean crossing or directly after it.
To entice travelers to book repositioning cruises, lines offer enticingly low fares, and many travelers grab them.

Scheduled
TransAtlantic cruise
The Cunard Line is the dominant player in this category. Its Queen Mary2 ping-pongs between New York and Southampton from May to October
The voyage takes only six days because the Queen Mary2 does not make stops along the way, And, the stylish Queen Mary2 is 50% faster than the typical trans-ocean cruise ship.
Cruisers will like this itinerary if they relish relaxing, get-away-from-it-all sea days. You don't see land for four consecutive days. Cruisers also appreciate the low-keyed traditional style.
Learn More

for more TransAtlantic cruise tips
Learn these
cruise tips
Best cruise lines by category
29 cruise lines - descriptions
Top 10 destinations
Cabin selection
Cruise costs
Booking advice
Shore excursions
Cruise pros & cons
Cruise dining insights
Family cruising
Cruise etiquette
Ship communications
Cruise industry - facts
More cruise tips/insights
Cruise Lines International Association

World's Top 100 Wonders
World's Top 1000 Wonders
Site map
My credentials
About my website and criteria
Reader testimonials