TransAtlantic cruise
page 3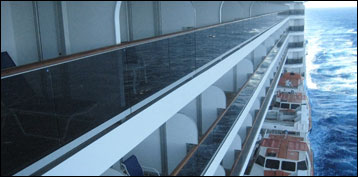 More tips
TransAtlantic
tips & insights

Why a TransAtlantic
cruise is special
You relive the Golden Age of cruising - the first half of the 20th century. Passenger ships ruled the Atlantic and trans-ocean flights barely existed.

Airline ticket issue
TransAtlantic cruises are one way. Therefore, you will need a one-way air ticket to return home. Be aware that most airlines charge almost as much (if not more) for a one-way as for a round trip ticket. This is a deal breaker for many would-be TransAtlantic cruisers.

Who should not take
a TransAtlantic cruise
Don't go if you:

Are prone to motion sickness.

Feel uneasy about not seeing land for days.

Are far more interested in shore excursions than relaxing sea days.

Crave a party ship.

Onboard activities
and facilities
It's difficult to be bored. Take your pick: Broadway-style shows, musical combos, comedians, piano bars, movies, dancing, lounges, casinos, restaurants, buffets, outdoor barbecues, lectures, cooking lessons, wine tastings, reading, games, demonstrations, boutique shopping, spa treatments, jogging, swimming, sunbathing, and relaxing doing absolutely nothing.

Destinations
TransAtlantic cruise ships collectively visit ports in these and other countries: Bermuda, Brazil, Canada, Canary Islands, Caribbean Islands, England, France, Iceland, Ireland, Italy, Madeira, Spain, and the USA.

Luxury cruises
There are more sea days, fewer ports of call on a TransAtlantic cruise. This increases the appeal of a luxury cruise because you'll be spending more time onboard. Luxury ships have larger cabins, uncrowded public spaces, superior dining experiences, better lectures, fewer PA interruptions, to name but a few of many benefits.
Learn More

for what to know #


for what to know #

and #

Learn these
cruise tips
Best cruise lines by category
29 cruise lines - descriptions
Top 10 destinations
Cabin selection
Cruise costs
Booking advice
Shore excursions
Cruise pros & cons
Cruise dining insights
Family cruising
Cruise etiquette
Ship communications
Cruise industry - facts
More cruise tips/insights
Photo by Bruce Tuten - CC BY 2.0
Cruise Lines International Association

World's Top 100 Wonders
World's Top 1000 Wonders
Site map
My credentials
About my website and criteria
Reader testimonials