Top 10 most famous English foods
Food tips you can trust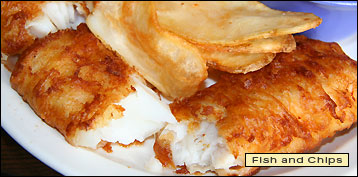 10 most famous
English foods

#1 to #7

Fish and Chips
Deep fried batter-dipped fish (usually cod) accompanied by french fries or thick potato chips. They are flavored with a liberal sprinkling of salt and malt vinegar.

Shepherd's Pie
Chopped lamb pie topped with mashed potatoes and grated cheese. Cottage Pie is similar, but made with beef.

Cornish Pasty
Turnover stuffed with minced meat, onions and vegetables (particularly potatoes).

Yorkshire Pudding
Souffle-like baked specialty made with flour, milk and egg. Served with roast beef.

Steak and Kidney Pie
The above meats are mixed with onions and mushrooms, then crowned with a pastry crust and baked.

Black Pudding
Fatty, starchy sausage thickened with pig's blood.

Lancaster Hot Pot
Meat and veggie casserole covered with sliced potatoes.

for #8 to 10
Also learn these English
food tips and insights
English cuisine - Bad reputation?
English cuisine - More insights
Photo by Jonathunder - GNU 1.2

Rankings
Peasant recipes
World wonders
Also read
Site map
About me and my credentials
About my website
Reader testimonials
Email me your opinion