Famous Irish foods
Food tips you can trust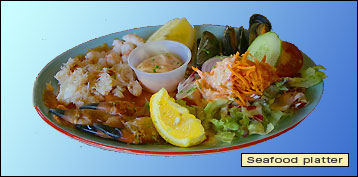 Famous Irish foods
Listed alphabetically

Banger
This sausage is similar to the English banger, but less seasoned.

Bacon and Cabbage
Those two ingredients are stewed together.

Barmbrack
Fruit-studded bread. Popular at teatime.

Boxty
The Irish potato pancake. Grated potatoes are mixed with mashed potatoes, then fried.

Calcannon
One-pot dish of boiled potatoes, cabbage and onions.

Champ
Mashed potatoes mixed with onions and doused with butter.

Coddle
A medley of bacon, pork sausages, and potatoes. A Dublin favorite.

Crubeens
Breaded, fried pig's trotters.

Drisheen
Blood pudding sausage.

Dublin Lawyer
Lobster with a whisky-and-cream sauce.

Farl
Pan-fried soda-leavened flatbread.

Irish Seafood Plate
Fresh fish and crustaceans fresh from the long Irish seacoast.

Irish Stew
Lamb (or mutton) is simmered with potatoes and onions.

Soda Bread
Round soda-leavened bread loaf etched with a cross on top.
Also learn these Irish
food tips and insights ...
Irish meals and beverages
Interesting Irish cuisine facts

Rankings
Peasant recipes
World wonders
Also read
Site map
About me and my credentials
About my website
Reader testimonials
Email me your opinion