Famous Irish meals
and beverages
plus Irish cuisine definition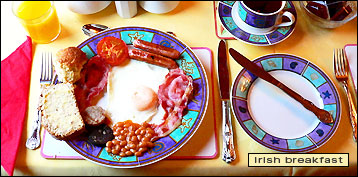 Irish cuisine's
most famous meal
and beverages

Most famous meal:
Irish Breakfasat
It's an enormous meal simultaneously featuring eggs, bacon, pork sausage, black pudding, fried tomatoes, and more.

Best known beverages

Guinness Stout
The one brewed in Ireland is noticeably superior to a Guinness Stout brewed abroad.

Irish Whiskey
It differs from Scotch Whisky in two ways: It has a less pronounced smoky flavor - and it's spelled with an "e". Bushmill's and Jamison are the top two brands.

Tea
The Irish are great tea, not coffee drinkers.
Irish cuisine - what is it?
There are several types.

Old traditional cuisine
In Ireland, until the 20th century, ingredient quality was generally mediocre and food was usually overcooked. Although this old traditional Irish cuisine was hearty and wholesome, it was not particularly palate pleasing.

New traditional cuisine
Ingredient quality and cooking sophistication began to improve remarkably about 50 years ago - and the new traditional Irish cuisine was born. Today, good cooks strive to use fresh, locally grown and raised foods - and to preserve their flavor integrity.

Foreign-influenced cuisine
Some modern-day restaurant chefs are bastardizing Irish cuisine. They merge exotic cooking ingredients and styles into the cuisine. And they put more emphasis on artistic presentation than on taste and authenticity.
Also learn these Irish
food tips and insights ...
Famous Irish foods
Interesting Irish cuisine facts
Photo by Joseph Mischyshyn - CC BY-SA 2.0

Rankings
Peasant recipes
World wonders
Also read
Site map
About me and my credentials
About my website
Reader testimonials
Email me your opinion