Citadel of Saladin
Travel tips you can trust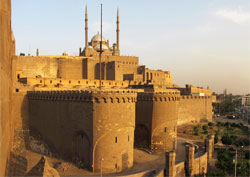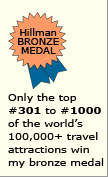 Why the
Citadel of Saladin
is special
The 12th-century hilltop Citadel of Saladin in Cairo played a vital role in Egyptian history - it thwarted enemies and was the seat of the Egyptian government until the 1860s, a period spanning 700 years.
Citadel of Saladin
tips and insights

Top 3 attractions

Mohammed Ali Mosque
It sits on the hill's highest point, dominating Cairo's skyline. The edifice was built in the mid 19th century and resembles the Ottoman mosque style because it was designed by a Turkish architect. The interior views of the soaring full and half-domes are stunning.

Al-Nasir Mohammed Mosque
This 14th century Mamluk-style structure has a distinctive green dome. Some mosque-savvy visitors believe its interior design is superior to that of the above-mentioned mosque.

City views
Terraces provide visitors with a panoramic view of Cairo. It's at its best when the city isn't smoggy (which isn't often).
The Citadel of Saladin has some museums, but nothing that would interest most visitors.

What you see today
Much of today's citadel dates back only to the 19th century during the rule of Mohammed Ali.

Location in Egypt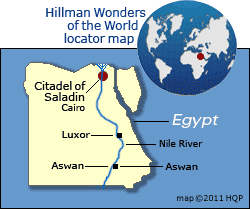 Read about each of Egypt's top 7

Pyramids of Egypt at Giza


Karnak Temple


Nile River Cruise


Egyptian Museum


Valley of the Kings


Abu Simbel


Luxor Temple

Photo by Ahmed Al - CC BY-SA 2.0

World's Top 100 Wonders
World's Top 1000 Wonders
Site map
My credentials
About my website and criteria
Reader testimonials