Colossus of
Rameses II
Travel tips you can trust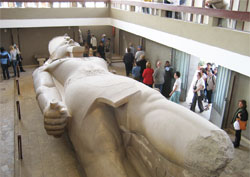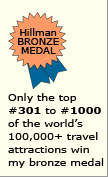 Why the
Colossus of Rameses II
is special
The immense statue of the great 13th century Pharoah Rameses II is exquisitely sculpted.
Colossus of Rameses II
tips and insights

Actually, there is
a pair of them
One lies on its back (see photo) in a museum shelter near ancient Memphis. The other stands upright at the new Grand Egyptian Museum in Giza.

Memphis-area statue
It's in a prone position because the lower part of its legs are lost forever. One benefit is visitors can see the upper part of the body at close range.
It measures 10 meters (33 feet) in length - and this is without full legs.
The site is about 50 kilometers (30 miles) south of Cairo, making it an easy daytrip. Combine the trip with the relatively nearby Step Pyramid of Djoser and the Alabaster Sphinx.

Grand Egyptian Museum statue
This one can stand erect because it has its full legs. With them, it rises 11 meters (36 feet).

Original location
Both stood three millennia ago in front of a Ptah Temple gate in Memphis, which was once a capital of Egypt. They were discovered by the Italian archaeologist Giovanni Caviglia in 1820. Being buried in sand helped preserve them.

Nearly exported
The ruler Mohammed Ali donated the Memphis-area statue to the British Museum. It had to decline the generous gift because it was too large and heavy for safe transporting to London.

Location in Egypt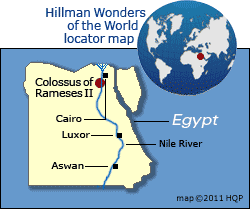 Read about each of Egypt's top 7

Pyramids of Egypt at Giza


Karnak Temple


Nile River Cruise


Egyptian Museum


Valley of the Kings


Abu Simbel


Luxor Temple


World's Top 100 Wonders
World's Top 1000 Wonders
Site map
My credentials
About my website and criteria
Reader testimonials