Siwa Oasis
Travel tips you can trust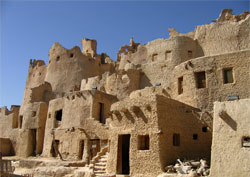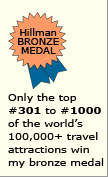 Why the
Siwa Oasis
is special
The extremely isolated Siwa Oasis has spectacular ruins and a unique traditional Berber culture that lure adventure travelers.
Top 3
Siwa Oasis
attractions

Old settlement ruins (see photo)
This is Siwa's greatest attraction. Its many mud-brick buildings (now mostly unoccupied) dramatically sit above the new town like a Hollywood movie set.

Mountain of the Dead
This hill is pitted with rock-hewn Greco-Roman tombs. It offers good views of the new town below and the numerous date palm groves beyond.

Oracle of Amon
Though little is left structurally, Amon's history lives on as being the oracle Alexander the Great consulted to rubber stamp his god status.
Other leading attractions include Cleopatra's Bath and Fatnas Spring.
More
Siwa Oasis
tips & insights

Sizeable Oasis
It measures 80 kilometers (50 miles) in length and 20 kilometers (12 miles) at its widest point.

Not easy to get to
Trains to Siwa are nonexistent and the local airport is used mainly for charter and private jets. By road, it is about 750 kilometers (470 miles) from Cairo and approximately 300 kilometers (190 miles) from the Mediterranean coast.

Location in Egypt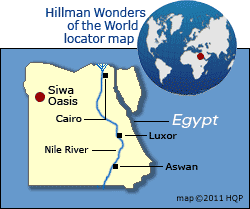 Read about each of Egypt's top 7

Pyramids of Egypt at Giza


Karnak Temple


Nile River Cruise


Egyptian Museum


Valley of the Kings


Abu Simbel


Luxor Temple


World's Top 100 Wonders
World's Top 1000 Wonders
Site map
My credentials
About my website and criteria
Reader testimonials