White Desert
Travel tips you can trust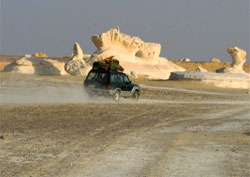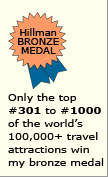 Why the
White Desert
in Egypt is special
Its unique chalk rock and limestone formations seem surreal, as if on a distant planet. They jut up from the desert floor.
White Desert
tips and insights

Origin
The rocks were carved into their eerie shapes by sandstorms over centuries and millennia. The combo formation nicknamed "Mushroom and Chicken" is the most popular.

Typical tour
The heart of a private or organized tour lies between Bahariya Oasis in the north and Farafra Oasis in the south. They are nearly 200 kilometers (125 miles) apart.
You drive from Cairo to one of those oases and return to Cairo via the other. Figure on about five hours each way.
You see more than just the White Desert. When heading south, the major sightseeing stops along the way are:

Black Desert
Short volcano mounds and small black stones dot the land.

Agabat
Modest-sized valley with unusual hill formations.

Crystal Mountain
Not a real mountain, but a crystal-adorned landscape.

White Desert
The star attraction.
Tour length normally varies from two to several days. Many tours let you sleep in the desert, either in a tent or on the open sands under the stars.

When to vist
Desert temperatures can be unbearably hot during midday from mid-Spring to mid-Fall. If you must come during that period, do your sightseeing early morning or late afternoon. As a bonus, the low-angled sun rays will make the formations more visually striking, both for the eye and camera. For a memorable experience, be there on a full moon.

Location in Egypt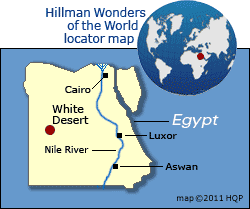 Read about each of Egypt's top 7

Pyramids of Egypt at Giza


Karnak Temple


Nile River Cruise


Egyptian Museum


Valley of the Kings


Abu Simbel


Luxor Temple

Photo by Endlisnis - CC BY 2.0

World's Top 100 Wonders
World's Top 1000 Wonders
Site map
My credentials
About my website and criteria
Reader testimonials