St Paul's Cathedral
Travel tips you can trust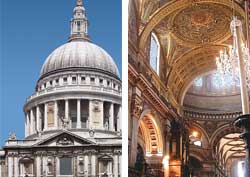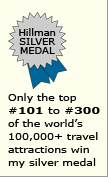 Why
St. Paul's Cathedral
is special
The St. Paul's Cathedral is a Baroque-architecture masterpiece, inside and out (see twin-paneled photo).
St. Paul's Cathedral
tips and insights

Design and construction
The renowned Sir Christopher Wren designed St. Paul's Cathedral in 1673 and it was completed several decades later.

Wren's inspiration
Wren obviously gained his inspiration for the dome from Michelangelo's dome for St. Peter's Basilica in Rome.

Historic site
It's the latest of a succession of cathedrals occupying the mid-London site. The first was erected over a thousand years earlier, in 604 A.D. Older structures include a Roman Temple of Diana.

Height
St. Paul's cathedral soars 111 meters (365 feet) into the sky.

Views
You can climb up to the dome. First, you reach the circular Whispering Gallery where whispers can be heard from the opposite side. Go higher for a panoramic view of London from the Stone Gallery. Climb even more stairs to the Golden Gallery for an even more breathtaking vista.

Location in England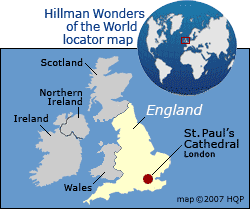 Learn my other
England tips and insights
Wonders of England - Top 10 rankings
England Wonders - Map
English Cuisine

World's Top 100 Wonders
World's Top 1000 Wonders
Site map
My credentials
About my website and criteria
Reader testimonials