Tate Museums
Travel tips you can trust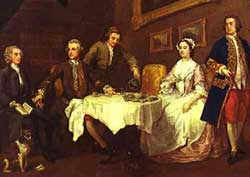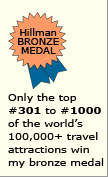 Why
the Tate Britain
and Tate Modern
museums are special
The Tate Britain displays a notable collection of British Art from 1500 to the present. Its sister museum, the Tate Modern, exhibits an exciting collection of 20th and 21st century international modern art.
Tips and insights

Humble habitat
The Tate Modern resides in an old power station. The tall smokestack jutting out of the building is a conspicuous reminder.

Quick rise stardom
In 2000, the Tate Modern opened with fanfare. It didn't take long for its greatness to spread to art lovers around the world.

Famous painting
One of the Tate Britain's artistic treasures is the 18th century Strode Family painting by William Hogarth (see photo).

When to come
To avoid crowds, visit the Tate Britain and Tate Modern in the early morning or late afternoon.

Location in England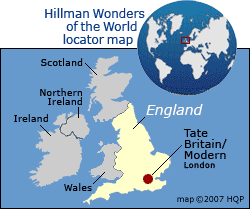 Learn More

for Tate - Page 2
Learn my other
England tips and insights
Wonders of England - Top 10 rankings
England Wonders - Map
English Cuisine

World's Top 100 Wonders
World's Top 1000 Wonders
Site map
My credentials
About my website and criteria
Reader testimonials