York Minster
Travel tips you can trust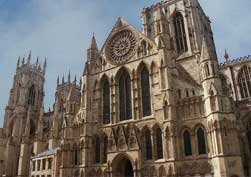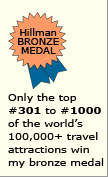 Why
York Minster
is special
York Minster is one of the world's grandest cathedrals. And, its medieval stained glass windows are superlative.
York Minster
tips and insights

Construction
The cathedral we see today began in 13th century and took 250 years to complete. It was built on the ruins of earlier churches (one dates back to 627).

Cathedral envy
York Minster is a classic example of cathedral envy that was common in medieval Europe. Each cathedral wanted to outsize the other. In the York Minster case, the local archbishop wanted to dwarf the cathedral in Canterbury in southwest England.

Misfortunes
Like other cathedrals, York Minster suffered serious damages over the centuries from fires (one was as recent as 1984) and by the hands of fervent sackers and religious zealots.

Windows
Experts praise the York Minster's medieval stained glass windows. There are 128 in all. The Five Sisters and the Great East Window are the two best.

View
For a bird's-eye view of York and countryside, climb the steep, narrow, spiraling set of stairs to the top of the central tower.

Location in England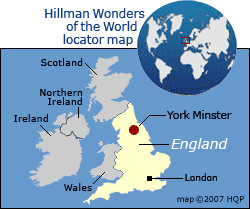 Learn my other
England tips and insights
Wonders of England - Top 10 rankings
England Wonders - Map
English Cuisine

World's Top 100 Wonders
World's Top 1000 Wonders
Site map
My credentials
About my website and criteria
Reader testimonials