Blarney Stone
& Castle
Travel tips you can trust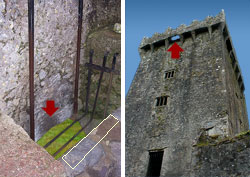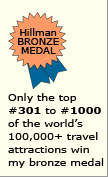 Why the
Blarney Stone and
Castle are special
The Blarney Stone in Ireland has captured the imaginations of people around the world - and the castle complex is interesting to explore. The combination of the two aspects wins my bronze medal.
About the
Blarney Stone

Legend
You gain the Irish "gift for gab" (the ability to flatter and cajole with eloquence) by kissing the Blarney Stone.

Setting
The Blarney Stone is recessed in the battlements (see arrow in left photo). Smooching and disinfectants have stained a large portion of the Blarney Stone. The open space below it is seen in each photo.

Safety crossbars
Note the horizontal crossbars in the left photo. They stop your fall should the staffer accidentally let go of you. (Those bars did not exist for kissers in earlier days.)

Location in Ireland
Learn More

for next Blarney Stone page
Know these tips and insights
Ireland wonders - Top 5 rankings
Ireland wonder map
Top 3 most famous Irish songs - Lyrics
Irish cuisine

World's Top 100 Wonders
World's Top 1000 Wonders
Site map
My credentials
About my website and criteria
Reader testimonials