Cliffs of Moher
Travel tips you can trust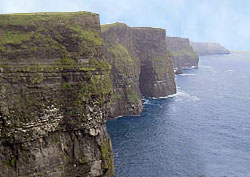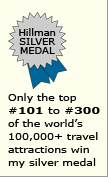 Why the
Cliffs of Moher
are special
The majestic Cliffs of Moher in Ireland rise virtually straight up out of the Atlantic Ocean for a stretch of 8 kilometers (5 miles). They stand as high as a 60-story building.
Cliffs of Moher
tips and insights

How to pronounce
Moher = mow'-her

Best time to come
This wonder annually attracts nearly a million tourists. To avoid crowds, come in May or September.

Weather-dependent viewing
Remember, this is the southwest corner of Ireland. Fog and rainy weather conditions could partially or totally mask what you came to enjoy.

Main visitor site
Even in the summer, you'll likely need a sweater or windbreaker. It can be chilly due to strong ocean breezes.

Visitors Center
It is situated midway along the cliff course and near the highest elevation point. Key facilities are:

O'Brien's Tower
From the observatory in this 1835 round stone tower, you can see the unending struggle between waves and rock. The Aran Islands and Connemara Hills can be seen in the distance.

Visitors Center complex
Offers food, shops, observation windows, and an educational Atlantic Edge exhibit.

Location in Ireland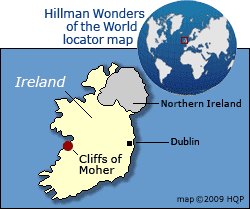 Learn More

for next Cliffs of Moher page
Know these tips and insights
Ireland wonders - Top 5 rankings
Ireland wonder map
Top 3 most famous Irish songs - Lyrics
Irish cuisine


World's Top 100 Wonders
World's Top 1000 Wonders
Site map
My credentials
About my website and criteria
Reader testimonials