Rock of Cashel
Travel tips you can trust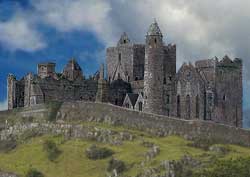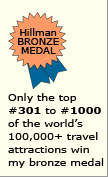 Why the
Rock of Cashel
in Ireland is special
You cannot help from being impressed when you see first see the sizeable Rock of Cashel ruins assertively sitting on a hill 200 feet above the surrounding plains.
Rock of Cashel
tips and insights

Top ruins

Round stone tower
This is the oldest (900 years) and best preserved of the group. It stands 28 meters (92 feet) tall and was constructed without mortar.

Cathedral
Built in the mid-13th century. Has been roofless for over two centuries. Walk up 127 steps for the panoramic roof-walk view.

Romanesque Chapel
Laudable architectural design. Dates back to the 12th century.

Vicar's House
This restored building has a small museum. Exhibits include the renowned St. Patrick's Cross.

Tidbits

Cashel translates "fortress".

The current ruins were built over previous ones which were constructed still earlier on. Traces exist.

The site's known royal history dates back to the 4th century. Power switched hands many times during the ensuing 1,200 years.

Legend says that St. Patrick converted King Aenghus here.

To avoid mid-summer crowds, arrive early or late in the day.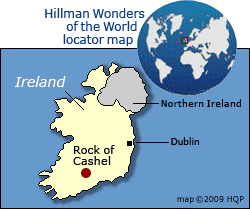 Know these tips and insights
Ireland wonders - Top 5 rankings
Ireland wonder map
Top 3 most famous Irish songs - Lyrics
Irish cuisine

World's Top 100 Wonders
World's Top 1000 Wonders
Site map
My credentials
About my website and criteria
Reader testimonials