Trinity Library
Travel tips you can trust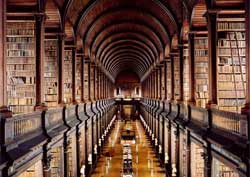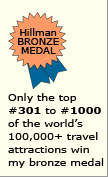 Why the
Trinity College Library
in Dublin City
is special
It is home to three of Ireland's greatest treasures: The Long Room, the Book of Kells, and an iconic harp.

Long Room
The twin-tiered Long Room (see photo above) has a fascinating library interior design - and the shelves are tightly packed with venerable volumes of scholarly significance. It's one of the most visually striking chambers in the world.

Book of Kells
The famous Book of Kells is a collection of illuminated manuscripts of the Gospel created by Celtic monks 1200 years ago. Each page is lavishly embellished with art and calligraphy that were applied on vellum sheets painstakingly by hand. In 1953, the pages were bound into several volumes and housed in a special chamber for public viewing. Today, for preservation's sake, only one or two pages of the displayed Book of Kells are exposed at a time. The leaves are periodically turned so you can see new material on your next visit.

Irish harp
This 12-century-old Irish Harp is one of the eminent icons of Ireland - and you'll view its rendering if you carry change in your pocket (see photo). The musical instrument picked up its "Brian Boru Harp" nickname because some people once thought it belonged to the great Irish king Brian Boru. Researchers shot down that theory after proving that the king lived centuries before the item was made.a

Vistor tip
The Trinity College Library is a popular tourist destination. To avoid summertime crowds, I suggest you arrive early or late in the day. This helps eliminate the possibility of being jostled by other visitors trying to catch a glimpse at the relatively small Book of Kells in its display case.

Location in Ireland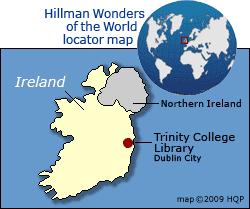 Know these tips and insights
Ireland wonders - Top 5 rankings
Ireland wonder map
Top 3 most famous Irish songs - Lyrics
Irish cuisine

World's Top 100 Wonders
World's Top 1000 Wonders
Site map
My credentials
About my website and criteria
Reader testimonials