Masada
Travel tips you can trust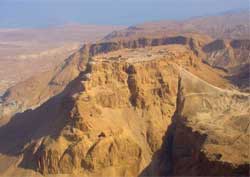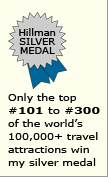 Why Masada
is special
Masada ("fortress") is the historic site where Jewish zealots committed suicide in 73 BC rather than surrender to the Roman army. This ancient complex is also famous for its awesome setting. It is perched on a high, flat cliff-sided mount (see photo) overlooking the Dead Sea.
Masada
tips & insights

History in brief
Jewish zealots captured Masada from the Roman military, who later put it under a successful siege. Rather than surrendering and become enslaved, nearly a thousand zealots committed mass suicide, according to the 1st-century historian Josephus Flavius. Today, that story is an integral part of Israel's heritage.
Note: Some archaeological evidence disputes the magnitude of the mass suicide reported by Josephus Flavius.

Top to do's
They include:

Absorbing the site's rich history as you explore highlights including the palaces, synagogue, bath house, and storehouses.

Enjoying the sweeping views of the Dead Sea and surrounding arid landscapes.

Walking up the long, steep 275 Snake Path that zig-zags from the mount's foot to its top. If you're not physically fit, take the modern cable car.

See the inspiring sunrise from the summit (requires hiking up the Snake Path because the cable cars don't start operating until after dawn).

Day trip
Masada is slightly over an hour from Jerusalem. Tours and rental cars are available.

How to pronounce
Masada = meht-zah-dah (not mah-sah-dah)

Location in Israel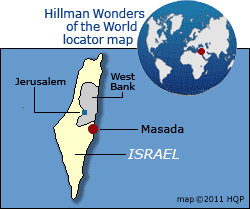 Know these Israel tips and insights
Israel medal winners
Dead Sea
Holy Sepulchre Church
Jerusalem Old City
Masada
Temple Mount
Rankings
Top 2 Israel Wonders

World's Top 100 Wonders
World's Top 1000 Wonders
Site map
My credentials
About my website and criteria
Reader testimonials