Luxury
vs mainstream
cruise lines
25 ways luxury cruises
are superior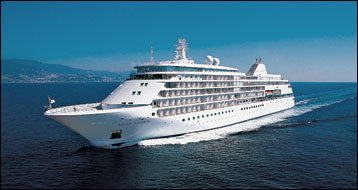 Difference
There is a marked difference between what you experience on a luxury and a typical mainstream cruise ship. Although luxury cruise fares are higher than mainstream ones, you gain a lot for the extra money you spend.
The 25 differences

All-inclusive fare

Covers gratuities, alcoholic beverages, and some other items charged by mainstream lines

Cabins

Most are spacious suites with verandas, walk-in closets, and separate seating areas

They are stylishly furnished and decorated - and use top notch linens, pillows, and mattresses

Cabins have high-tech electronic entertainment equipment systems - and an extensive choice of free major movies shown on the flat-screen TV

Many cabins come with butler service

Dining

Quality of the food, presentation, and tableware scores high marks

Dining tables are not closely situated, giving you more privacy

Buffet restaurants don't feel like cafeterias

Entertainment

It's tasteful and geared for discerning audiences

Service

Staff is attentive and well trained as well as personable and genuinely eager to please

High crew-to-passenger ratio

Felow passengers

They're educated, sophisticated, and well-traveled - and easy to meet

Loud, inconsiderate passengers are rare

Children

Few if any children are onboard, therefore no dashing, screaming kids in the pool, restaurant, and other areas to disrupt your peace

Public spaces

They are spacious, tastefully furnished, and uncrowded

Ship

Ships are noticeably smaller and more intimate than mainstream ones

Passenger capacity is lower than on mainstream boats (for example, the Allure of the Sea carries 50 times more passengers than the SeaDream vessels do)

Space-to-passenger ratio is high (if a luxury and a mainstream ship are equaled in length, the passenger capacity of the luxury one will likely be about half of the mainstream one)

Ambiance

You won't be disturbed by incessant PA announcements

The low-keyed environment is perfect for vacationers who want to unwind - and for honeymooners and anniversary celebrants

Itineraries

You don't just visit the famous large ports - you experience the small interesting ones as well

More luxury cruise amenties

Waiting lines are few if any

Embarkations and disembarkations are swift

Shore excursion groups are small

Lectures are selected with high standards

Libraries are relatively large and thoughtfully stocked
Luxury cruises are
not right for you if ...

You seek activities like waterslides and glitzy big-stage Las Vegas and Broadway style production shows

You're taking your children and teenagers (there are no specialized facilities or programs for them on luxury cruise ships)

Your budget is tight

Read these pages
Best 5 luxury cruise lines
Luxury-upmarket cruise lines
Luxury vs mainstream cruise lines
Luxury cruise ship photo gallery
Luxury cruise ship fact sheet
Silversea Cruises
Cruise Lines International Association

World's Top 100 Wonders
World's Top 1000 Wonders
Site map
My credentials
About my website and criteria
Reader testimonials