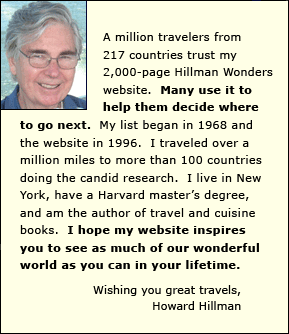 More
Dry Valleys
tips and insights

Three major valleys
They are separated by iceless mountain ridges. Their names are Taylor, Victoria and Wright.

Rock-strewn ground
The valley floors are scattered with small and large rocks. Some of the rocks have been shaped over time into grotesque forms by the valley's strong winds.

Life
The land is not entirely lifeless. Some small scale life (including fungi) have evolved into life forms that live inside the porous rocks.

Location in Antarctica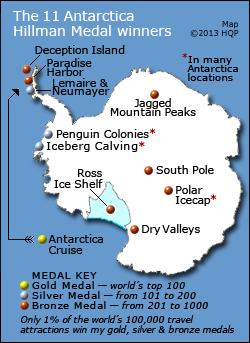 The Dry Valleys are near the Ross Ice Shelf, and even closer to the US operated McMurdo Station. The latter is known for its ecological and environmental research.
Learn More

for first Dry Valleys page
Know these tips and insights
Antarctica cruise
Deception Island
Dry Valleys
Iceberg Calving
Jagged Mountain Peaks
Lemaire & Neumayer Channels
Paradise Harbor
Penguin Colonies
Polar Icecap
Ross Ice Shelf
South Pole

World's Top 100 Wonders
World's Top 1000 Wonders
Site map
My credentials
About my website and criteria
Reader testimonials