Avalon Artistry II
more tips & insights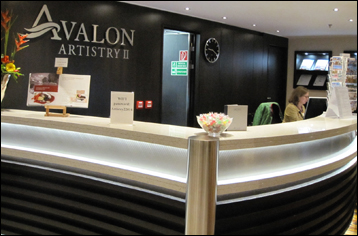 Best dining room side
For breakfast and dinner, sit in the shady (not sunny) side. The colors of the passing landscapes will be more vibrant and you won't be squinting at low-lying sun rays.
Keep it a secret
reading retreat
The comfortably appointed, panoramic windowed Club Lounge located at the far end of the Royal Deck passageway is often quiet and lightly used. This make it a relaxful place to curl up with a book.
Passenger profile
Most are Americans, Canadians, British, and Australians. Most are in their 50s and 60s - and are active and well-traveled.
Internet
Free onboard Wi-Fi is available for laptop, tablet, and other electronic devices.
If you didn't bring yours, use the free-internet-access computers in the reception area.
Keep in mind that those computers are most likely to be busy just before and after dinner.
Battery Charging
You need a converter if your charger is not compatible with the ship's 220 Volt current. And you need a plug adapter if your charger doesn't have the ship's European-style round two-prong plugs.
Smoking policy
For fire safety purposes, you may not smoke anywhere in the ship's interior (including in your cabin). The rear-facing outdoor deck behind the Club Lounge is the designated smoking venue.
Tipping
You do not tip waiters, bartenders, and other staff members during the cruise. However, you are encouraged to tip the staff collectively and the cruise director individually at the end of cruise. Guidelines are given.
Dress code
Unlike with some ocean-going cruises, there are no formal nights. However, for Artistry's Welcome Dinner and Captain's Farewell dinner, a sport jacket, slacks, and a dress shirt with a tie or open collar will do for men. And the equivalent for women would be fine. For all other nights, resort casual (for instance, polo shirt and slacks for men) is the norm.
Learn my other
Avalon Artistry II tips & insights
Know what my fellow passengers
think about the Artistry II
Top 10 reasons why they like it
More Artistry II insights
Lounges
Dining
Onboard activities
Shore excursions
Suites and staterooms
Photos of staff
Menu
Deck plans
Communications
Ship fact sheet
More tips & insights
Click Avalon Waterways
to visit its website.
Photo credits: HQP/hillmanwonders.com

World's Top 100 Wonders
World's Top 1000 Wonders
Site map
My credentials
About my website and criteria
Reader testimonials