Banaue Rice Terraces
page 3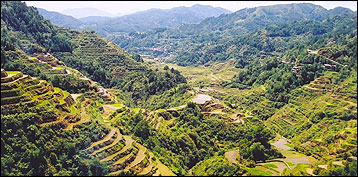 More
Banaue Rice Terraces
tips & insights
---
Most popular viewpoint for
the Banaue Rice Terraces
It's a 10-minute ride up the road to Bontoc from the Banaue town center and has a spectacular vista. Be sure to stop also at the other roadside viewpoints along the way - each offers a different and exciting perspective.
---
Best photo months
From mid-March to mid-May, it's harvest time. The Banaue Rice Terraces landscape will be a combination of vivid greens and golden yellows.
---
Accommodations
The town of Banaue has a variety of inns and guest houses to suit most pocketbooks. The Banaue Hotel has the best facilities and is reasonably priced.
---
Batad & Bangaan
The region has other worth-visiting rice terraces, including those of Batad and Bangaan. Learn about them:

Batad & Bangaan Rice Terraces
---
Temperature
This mountainous area is much higher in altitude than most of the country. Nights can be sweater-cool even on hot & humid days.
---
Ethnic festivals
The region has many festivals. The Imbayah in Banaue town is the biggest one. It's held every several years. View photos:
Imbayah Festival photo gallery
---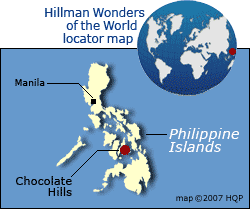 ---

Philippine wonder map
Philippine wonder photo gallery
Banaue Rice Terraces
Chocolate Hills
Mayon Volcano
Pamalican Island
Taal Volcano
Tubbataha Reef
Underground River
Honorable mentions
Batad & Bangaan terraces
Banaue Rice Terraces photo gallery
Banaue Festival photo gallery
Country facts & tidbits
Learn Filipino/Tagalog phrases
Philippine cuisine


World's Top 100 Wonders

World's Top 1000 Wonders

Site map
---

---

Philippine Department of Tourism
---
Photo by Magalhaes - PD
---