Easter Island is part
of the Polynesia triangle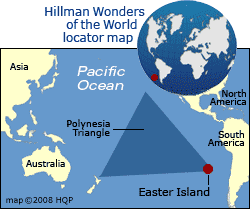 It sits on the southeast corner of the famous Polynesia triangle. Click my "Wonders of Polynesia" link below to learn more.
More
Easter Island
tips and insights

Remote
Few places are as remote as Easter Island. It is about 3000 kilometers (2000 miles) away from the two nearest population hubs: Tahiti (to the west) and Chile (east). Geographically, it's in the South Pacific.

First inhabitants
Experts are now fairly certain that Rapa Nui (as the locals call Easter Island) was inhabited by seafaring Polynesians around 400 AD. The Easter Island culture slowly evolved and peaked around 1400 AD.

Decline
At the time of its cultural peak, tiny Easter Island became over populated. To meet short term needs, the people committed conservational suicide by denuding the landscape of trees that future generations would need for fuel, boats and buildings. The topsoil soon eroded, the economy collapsed, civil war ensued and moai sculpting abruptly halted.
Learn More

for first Easter Island page
More Polynesia tips and insights
French Polynesia
French Polynesia - Intro
Bora Bora
Moorea
Nuku Hiva
Fatu Hiva
Ua Pou
Hawaii
Hawaii Volcanoes NP
Na Pali Coast
Waimea Canyon
Other Polynesian areas
Easter Island
Aitutaki Cook Islands
Upolu Western Samoa
Vava'u Tonga
More Polynesia pages
Polynesia wonder map
French Polynesia map & tips
Interesting facts and tidbits
Polynesia photo gallery
Gauguin painting gallery

World's Top 100 Wonders
World's Top 1000 Wonders
Site map
My credentials
About my website and criteria
Reader testimonials