Dining on a luxury
Alaska cruise ship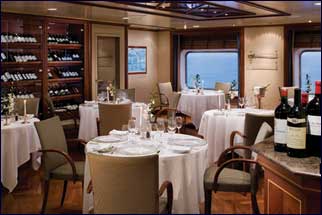 Why dining on
the luxury Silver Shadow
cruise ship is special
I was impressed with the food & beverage quality in the Restaurant, La Terrazza, and Le Champagne dining venues. House wines are expertly selected by the Silversea wine professionals. Tables are well spaced, noise level is minimal, and lighting is flattering. Menu selections change daily

The Restaurant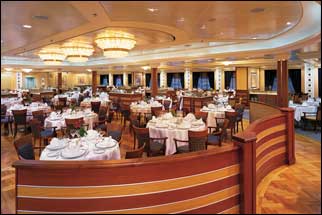 This is the Silver Shadow's main and largest restaurant. Dividers break up the room into inviting spaces. Large sea-view windows run along both sides, affording refreshing views. The Restaurant is open for all three meals. Seating is open - you can dine where, when and with whom you want.
View The Restaurant Dinner Menu examples.

La Terrazza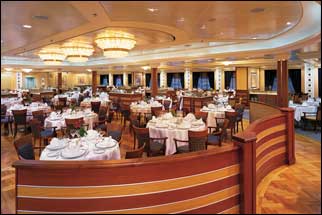 At night, the menu typically focuses on the cuisine of a single Italian region, on a rotating basis. Casual buffet and table service are offered at breakfast and lunch. Large windows create sea vistas. Outdoor seating is available, weather permitting.
View La Terrazza Dinner Menu examples.

Le Champagne Restaurant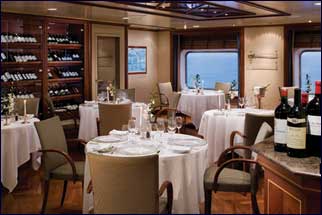 This petite, intimate restaurant serves a six-course degustation dinner menu, which entails a surcharge. The fine dining features specialties from a particular wine region, such as Burgundy or Bordeaux. Each course is knowledgeably paired with an outstanding wine and, with the final course, cognac. My only criticism was that the sommelier who was on duty during my visit lacked sufficient wine knowledge for his job, which was evident in the way he had to rely on memorized, rote-delivered spiels to describe each wine. And he made several factual mistakes about wines. Also, he was inhospitable at times.
View Le Champagne Dinner Menu examples.

Other dining venues
Pool Grill
Casual items such as hamburgers and salads are served on the pool deck. You sit at seaside tables. Weather permitting, festive barbecue and seafood lunches (and sometimes dinners) are held.
In-suite service
You can order 24 hours a day off the room service menu for meals or snacks inside your suite or on your balcony. You can also use The Restaurant's menu during normal breakfast, lunch and dinner hours.
Afternoon tea
This British tradition takes place daily at 4 pm in the comfortable Panorama lounge. You have a choice of teas served with tea-time pastries and sandwiches.

Dinner Reservations
Make them well ahead of time for the La Terrazza and Le Champagne. None is required for The Restaurant.

Special diets
The Restaurant will prepare standard low fat, low calorie, and vegetarian dishes on request if the ingredients are available onboard. Passengers with more demanding dietary requirements should make their requests with the Silversea Cruises 60 days before boarding.

Learn my other
Silver Shadow tips
Silver Shadow
Why it's special
Top activities
Dining
Dinner menus
Silver Shadow facts
Photos and deck plans
Other public spaces
Suite photo gallery
Crew photo gallery
Deck plans
Click Silversea Cruises for its website.
Learn my
Alaska sruise tips
Itinerary insights
Packing tips
Famous Alaskan foods
Alaska facts and tidbits
Other Alaska cruise topics

Best 4 Alaska cruise ports to visit
Best shore excursions - overview
Helicopter tours - Ranks #1
Floatplane tours - Ranks #2
Best 3 Juneau shore excursions
Best 3 Ketchikan shore excursions
Best 3 Sitka shore excursions
Best 3 Skagway shore excursions
Best glaciers

Denali National Park
Goldstar Dome railroad ride
More pre- and post-cruise options


World Wonders - Top 100 rankings
World Wonders - Top 1000 list
My credentials
About my website and criteria
Reader testimonials
Site map