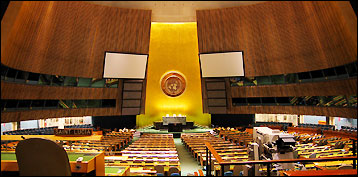 More
United Nations
tips and insights

Polyglot
The United Nations is the most polyglot spot on earth. Scores of different languages and dialects are spoken.

In the beginning
The land was donated to the United Nations by financier John D. Rockefeller Jr. The United Nations complex was designed by an international team of architects. Le Corbusier of France had the greatest influence.

Structures
The two most significant are the 39-story Secretariat (essentially an office building for the various national missions) and the 5-floor General Assembly. A process has begun to renovate the Secretariat. It has many shortcomings including narrow corridors, unhealthy asbestos, and poor temperature regulation.

Funding
To fund its substantial annual expenses, the UN assesses its members. Contributions are based on ability to pay, not population.

Best photo vantage
For the best perspective photos of the United Nations, you need to exit it. The First Avenue sidewalk provides a fine vantage (see photo). So do tour boats and sightseeing helicopters.
Learn More

for United Nations tips - Page 1
Learn my other
America tips & insights
America Wonders - Complete list
America wonder map
Top 10 Famous American foods

Photo by Chris Erbach - CC BY-SA 3.0

World's Top 100 Wonders
World's Top 1000 Wonders
Site map
My credentials
About my website and criteria
Reader testimonials