Deception Island
Travel tips you can trust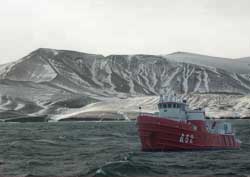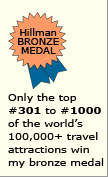 Why
Deception Island
is special
The horseshoe-shaped Deception Island sits just off the Antarctica Peninsula coast. The bay in the middle of the island has an interesting harbor that has become a popular stop over destination for Antarctica cruise ships. 
Deception Island
tips and insights

The land is a caldera
It is the remnants of a collapsed volcano. Characteristically, the middle portion of the volcano sank, creating a depression while the remnants of the collapsed wall formed a high barrier around the hollow.

Volcano is still active
It last erupted several decades ago, destroying some buildings, and forcing research scientists and military personnel to flee Deception Island.

Wading in Pendulum Bay
Subterranean volcanic energy heats a few areas of the bay, particularly Pendulum Bay. Tourists don bathing suits and splash around in that bay while their friends take their pictures (they know that being photographed in beach attire in the Antarctica will be a conversation piece when they get back home).

Location in Antarctica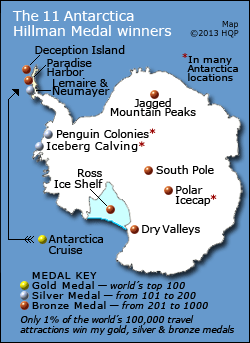 Learn More

for for next Deception Island page
Know these tips and insights
Antarctica cruise
Deception Island
Dry Valleys
Iceberg Calving
Jagged Mountain Peaks
Lemaire & Neumayer Channels
Paradise Harbor
Penguin Colonies
Polar Icecap
Ross Ice Shelf
South Pole

World's Top 100 Wonders
World's Top 1000 Wonders
Site map
My credentials
About my website and criteria
Reader testimonials