Batad & Bangaan
Rice Terraces
page 2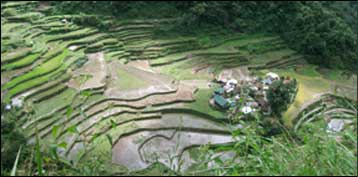 About Bangaan

Pronunciation
bahn-NAH-ahn

Setting
Bangaan, like Batad, has an amphitheater-shaped rice terrace slope, though on a less grand scale.

Easier to visit than Batad
I recommend Bangaan to travelers who are unable to visit Batad because of time or fitness limitations. Bangaan is also a must-see for those who have been to Batad.

Best photo vantage
It is from the road, just before you reach Bangaan (see my photo).

Final leg
It's an easy 15-minute hike from the road down to the Bangaan village.

Accommodations
Local, basic lodging is available. Or, you can visit Bangaan as a daytrip from Banaue.
Other attractions near Banaue
They include:

Mayoyao
It has stone-wall rice terraces (most other areas have clay walls).

Poitan Village
This settlement is known for its artisan weaving and wood carving.

Guihob Natural Pool
The cold mountain-spring pool is a refreshing dip on hot-humid days.

Sagada
It's renowned for its hanging coffins and many caves. Note: This destination is too far from Banaue for a daytrip.
Learn More

for Batad and Bangaan - Page 1
Learn my other
Philippine tips and insights
Top 7 Philippine Wonders
Philippine wonder map
Philippine wonder photo gallery
Best time to visit Manila
Banaue Rice Terraces
Chocolate Hills
Mayon Volcano
Pamalican Island
Taal Volcano
Tubbataha Reef
Underground River
Honorable mentions
Batad & Bangaan terraces
Banaue Rice Terraces photo gallery
Banaue Festival photo gallery
Country facts & tidbits
Learn Filipino/Tagalog phrases
Philippine cuisine
Philippine Department of Tourism
WOW Philippines

World's Top 100 Wonders
World's Top 1000 Wonders
Site map
My credentials
About my website and criteria
Reader testimonials