Best time to visit
Dublin
advice you can trust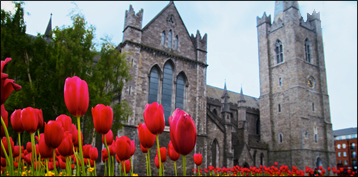 Dublin -
The best and worst
times to visit
Insights you need to know

Best times
Best: May to June
The temperature is a wee bit on the chilly side, but you avoid the crushing tourist crowds of mid summer. And Dublin bursts with colorful flowers
Second best: July and August
It boasts a comfortable temperature (around 20°C or 65° F) - the year's highest. On the negative side, tourists swarm and prices soar.
Third best: September
Tourist crowds have lessened and the crisp early fall air is invigorating. However, daylight sightseeing hours are short.

Least desirable times
November to March
Chances are you will experience cold temperatures, chilly rain, and cloudy skies.

About the rain
The total annual rain is less than the amount that falls in most other popular European tourism cities. However, when it rains in Dublin, it usually comes down as a steady drizzle or an unaggressive shower rather than a hefty downpour.

Know when to go
and not go to other
travel destinations
Click More best and least desirable times
Learn my other
Ireland tips & insights
Ireland wonders - Top 5 rankings
Ireland wonder map
Top 3 most famous Irish songs - Lyrics
Irish cuisine
Dublin photo by Zach Dischner - CC BY 2.0

World's Top 100 Wonders
World's Top 1000 Wonders
Site map
My credentials
About my website and criteria
Reader testimonials