Longmen Caves
China travel tips
you can trust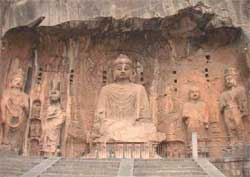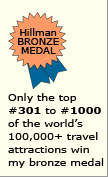 Longmen Caves
tips and insights

Manmade
The grottoes are not natural. They were hollowed out by humans to create temples inside the mountain.

Most famous
Ancestor Worshiping Cave
It is the most celebrated of all Longmen Caves and is also known as the Fengxian Temple.
This Tang Dynasty masterpiece includes a statue of Buddha (see photo above) measuring almost 17 meters (55 feet) high. For size comparison, notice the height of the two adults standing on top of the steps in front of the sculptures.
The statues are now outdoors because the cave roof collapsed. For a visual treat, come just after dawn when the low lying sun's rays bathe the statues in warm hues and create silhouetting shadows.

Measurements
The Longmen Cave statuary ranges in size from thumbnail to colossal.

Name
Longmen means "dragon's gate" in Chinese.

Location
The caves lie along a riverside cliff, covering a distance of nearly one kilometer (slightly over a half mile).
Learn More

for next Longmen Caves page
Learn my other
China tips and insights
Wonders of China - Top 10 rankings
China Wonder location map
Chinese cuisine guide
Basic Chinese phrases with pronunciations

World's Top 100 Wonders
World's Top 1000 Wonders
Site map
My credentials
About my website and criteria
Reader testimonials