Diocletian Palace
Travel tips you can trust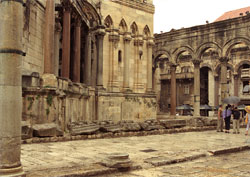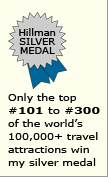 Why the
Diocletian Palace
is special
In the 4th Century AD, the Roman Emperor Diocletian built the fortified complex as his retirement residence.
Although this wonder has been drastically altered physically through the centuries, it is today the world's best-preserved Roman palace. And the multifarious alterations became a major tourist draw in themselves.
Top 3
Diocletian Palace
must sees

Basement
This large barrel-vaulted subterranean rooms are imposing. Note: Some visitors miss out because they think that the space with the stalls selling jewelry and other items is the basement's famous attraction. It's not. Ask someone to direct you to the right place.

Cathedral
It was Diocletian's mausoleum before it was transformed into a church. The building conversion is ironic because the Roman emperor Diocletian was hell-bent on eradicating Christians.

Peristil Square
This sculpted courtyard is visually striking (see photo).
Diocletian Palace
tips and insights

How to pronounce
Diocletian = dee-oh-klee-shun

When to come
The site's narrow passageways can become jammed in the summer with land and cruise tourists. Generally, the early morning or late afternoon hours are the least crowded. You can even come in the evenings (it never closes because people live there). The venue is relatively tourist-free then.

Size
The Diocletian Palace is large. It covers slightly over 30 hectares (8 acres).

Location in Turkey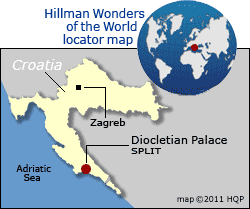 Learn More

for next Diocletian Palace page
Know these Croatia tips and insights
Dubronik
Old Town
Hotel tips
Photo gallery
Other Croatia wonders
Diocletian Palace
Hvar Old Town
Plitvice Lakes
Trogir
More pages
Croatia Wonders - Top 5 rankings
Basic Croatia phrases
Photo by Jerzy Strzelecki - CC BY-SA 3.0
Croatian National Tourist Board

World's Top 100 Wonders
World's Top 1000 Wonders
Site map
My credentials
About my website and criteria
Reader testimonials